How to Choose a Poker Table Top
Once you decide to purchase some type of poker table for your poker events, you have to decide between a folding poker table or a poker table top. The folding table is heavier and will give a very authentic feel to your poker events, but they are also more expensive and very difficult to move from one location to another. If that would be a problem for you, then a poker table top might be a better alternative.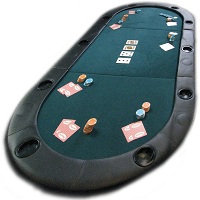 You can set a table top on a table already in your home or you could purchase a table that will fit nicely underneath your poker top. The better the fit, the more authentic your poker events will feel to an actual casino experience. If you aren't worried about it feeling like a real poker table, then just purchase the poker table top that fits your budget and place it on whatever table you already have in your home.
There are a lot of pros and cons to each type of table, so consider some tips that will help you pick the perfect table for your poker events:
1. How much money can you afford to invest in the poker table?
Foam poker table tops are best if you are on a very tight budget. Wooden table tops are better if you can afford a little more, or if you don't think a foam top will hold up to the heavy use you intend to put it through. If you have more money to work with you might go for a folding poker table, but that isn't always ideal. You might go for a higher end table top after considering the following points.
2. How often will you use the poker table top?
It doesn't make sense to invest in an expensive poker table if you aren't going to use it very often. Plan your budget according to the amount of usage you think the table might get. The more use it will get, the higher quality the table needs to be or it will not hold up long term. This is an investment that will last a lifetime if you select wisely.
3. How often will you have to move your poker table?
If you plan to move your table to different locations for tournaments, you should go with a lighter weight poker table top. Folding tables are very difficult to move around and some may be too heavy to move at all if you don't have a lot of muscle to help out. If you are leaving your table in one dedicated location, then a folding poker table can give more of an authentic feel to your poker events.
4. How many people will typically be joining your poker events?
Large sized folding poker tables can seat up to ten players, but the larger poker table tops may accommodate only eight players. There are also smaller tables that are suitable for more intimate poker tournaments. Keep this in mind as you shop around for a table. If you have smaller gatherings, then you may not need to invest in a more expensive, larger table. If you have large gatherings, then a smaller table may not fit your needs.
Some poker tables look more authentic than others, so consider the shape of the table and quality of materials when comparing prices.