The Beginner's Guide to Poker Chip Cases
You spend a lot of money on your poker chips, cards, and dealer button. Poker chip cases ensure that your investment is protected so you can focus on your hands and making those winning moves during important games. Once a gaming session is over, you rack your chips into the case, so you know instantly if you are missing any pieces.
The difficult part of selecting a poker chip case is comparing the different styles and designs. You can find poker chip cases made from many different materials, and some are far more expensive than others. If you have invested very little money in plastic chips, you may not want to make this investment at all. Just toss them in a shoebox, since they are of little value. A locked case will cost you more, but it is worth the investment if you have casino quality chips that are worth money.
Plastic Poker Chip Cases
A cheap plastic poker chip case will not offer a lock or any advanced designs, but it does serve its purpose. You can store away chips that do not hold much value without investing in a more expensive case. Just do not expect this type of case to last very long, since the cheap plastic is typically not durable enough to carry the weight of a 500 piece poker chip set.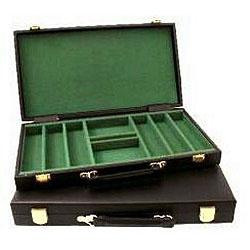 Vinyl Poker Chip Cases
Most vinyl cases are made from plastic or wood, but they are higher quality due to a coating of vinyl. Some of these cases will have locks, so they may offer more security for your chips than plastic cases. The biggest problem is durability, since the foundation is still plastic. Your 500 piece set of chips can weigh up to 20 pounds, so that is a lot of weight for a case to hold. Eventually, the handle just disconnects from the case.
Metal Poker Chip Cases
This is one of the most popular types of poker chip cases. The case is formed from structural aluminum, and you will find a wide variety of designs on the market. There are different styles falling into different price ranges, so everyone can find a metal case that fits their budget and their security needs.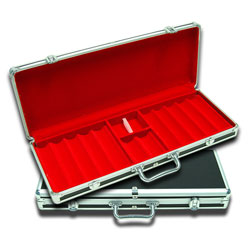 Some of the differences you will find between metal poker chip cases include:
Solid metal cases vs. cases partially constructed with plastic parts
Lockable cases vs. cases without locks
Cases with sharp corners vs. softer corners
Cases designed from lightweight metal vs. heavier metal
This last difference is something worth elaborating on. Lightweight metal is easier to carry around, but it is not durable enough for long term use. The best option is a medium weight metal such as aluminum. An aluminum case with the proper reinforcements for durability will last a long time. Add a lock, and you have a good chip case you can depend on.
If you want the best of the best, look for a solid metal case designed from aircraft-quality aluminum. These cases will have advanced features, such as flocked trays for your chips and barrel locks that are more secure. Higher quality hinges and fittings are included as well. Of course, not everyone can afford this type of case.
Wooden Poker Chip Cases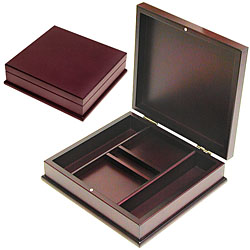 The market for poker chip cases constructed from wood is varied in style as well as price. The low end of the market offers pine wood cases with basic designs. The upper end of the market offers exotic designs with carvings and inlayed precious metals. These cases are handmade by cabinet makers, and that drives up the price to the consumer. Cases made from mahogany and other woods are found in the mid-market price ranges.
You will pay more for wood poker chip cases with the best finishes, heavier handles and hinges, and secure locks with keys. Removable trays may drive up the cost of some cases as well. You can find some of these features on reasonably priced cases, so this is the type of case to look at if you are on a budget but also want something of high quality.