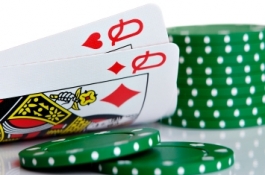 It is easy to get excited when you see pocket queens in your hand while playing no limit Texas Hold'em. This is one of the most promising hands to start off with, but you still have to apply sound strategy to get the most from the hand. The most successful poker players win the biggest pots while losing the smallest pots. The goal is always to pull in more than you put out over the course of a game, and pocket queens will clearly show which players are at the top of their game and which are not.
Pocket Queens Pre-Flop
If you are up first for action or all other players have barely limped into the pot, it is to your advantage to throw out a raise most of the time. This increases the cost of seeing the flop, which may cause some players with decent hands to fold. You also get to determine the potential value of your opponents' hands. If you raise and someone else throws out another raise or goes all-in, you can still get out of the hand if you suspect they may have AA or KK.
You do not want to be in the position of trying to determine whether your opponent can beat you because they threw out that second raise or went all-in. If you make it a habit to throw out the same pre-flop raise regardless of your hand, you will make it more difficult for other players to read your hand. The best case scenario is to get all but one or two players to fold, since a hand with pocket queens is best played against less than three opponents.
Pocket Queens Post-Flop
You typically will not need advanced strategy to play your two queens after the flop. If you made an aggressive entrance pre-flop, continue with that aggression to send the message you still have a great hand. You will only back down if an opponent convinces you they may have that AA or KK.
If you land an ace on the flop, you must bet accordingly. If you check and an opponent bets, you will be in the sad position of folding and giving up your pot. It is always better to represent that ace well and bet. Of course, the next decision will be to fold or hang in there if an opponent calls or raises your bet. If you are not an overly loose player and have made two aggressive plays, most opponents will only call or off a raise at this point if they are very confident in their hand.
Of course, nothing is set in stone with poker strategy. If you are playing against an aggressive opponent but are confident in your hand, you may want to check post-flop. If you draw a third queen on the flop, you have a strong hand that may be worth the check. Plus, a free card is not likely to hurt your hand if your opponent does not bet. You just pick up more chips as they bluff their way into a loss.
You may also want to check after the flop when dealing with a ragged flop or a flop that does not contain an ace. It is a risky move, but you may check and then go all-in once your opponent throws out a raise. If your opponent happened to hit a set on the flop, you could end up with a loss. Luckily, you will find that you win in the end more often than they hit that set.
When you use this type of betting strategy, you are assuming you know your opponent enough that they will take the bait and bet when you want them to bet. It is risky because you are giving free cards, so you might want to avoid this strategy when there are two same-suited cards on the flop and you did not gain a set on the flop. If you did gain the set on the flop, then there are outs to a potential full house, and that can pay off even if you are up against a flush.
If you are playing with beginners, you can pull some big pots with these risky strategies. It becomes more difficult to pull off when you are up against professional players. Someone with considerable skill and their own strategy is less likely to bluff once you check. You have shown some strength before the flop, so they will become suspicious when you check.