Poker Chips Buying Guide
As one of the most popular card games in the world, poker simply would not be the same without its faithful companion: poker chips. Poker chips are the lifeblood of the game, as they represent bids, and most importantly, the money placed on a hand of poker. There are many different elements to poker chips, and choosing a set is much easier when you know what to evaluate.
Types of Poker Chips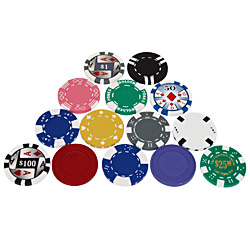 The first step in choosing the right poker chips is evaluating what types of chips are available. If you are on a budget, plastic chips make the best option, as they are the cheapest on the market. These are the type of chips you will find at department stores and the local super market. Unfortunately, these chips also offer the lowest quality. Many poker players have found that plastic chips feel even cheaper than the price, a huge factor that could possibly take away from the thrill of the game.
Clay chips are used by professionals and those who are serious about the game of poker. Players admire these chips because of the authentic sound and feel. Clay poker chips are easy to handle and not as slippery as their plastic counterparts. Although the type of poker chips all depends on personal preference, the quality and authenticity of clay chips are more likely to enhance the atmosphere of your poker party.
Poker Chip Designs
Poker chips come in an array of colors and design styles. The color combinations you will see most frequently are single, double and triple-color designs. Many players prefer the double color, as the single often looks a little plain, while the tri-color can be too much.
It is also common to find poker chips with various designs printed on them. For example, there are dice designs with each card suite printed on the chip, diamond designs, and suited designs with all sides of dice printed on the poker chips.
With so many styles available, there is a great chance that you will find a design that is just right for your game. In the event that you can't decide on one, you also have the option of customizing your own poker chips. This, of course, will cost you a little extra money, but you may find the price to be worth it.
Poker Chip Values
When looking for poker chips, keep in mind that some have printed values while others do not. The benefit of using chips without printed values is that you have the freedom to assign the value you want to different colors. Just in case you want to go with the standard, values commonly applied to colors are as follows:
$1.00 - White

$5.00 - Red

$10.00 - Blue

$25.00 - Green

$100.00 - Black
Number of Poker Chips
Last but not least, it important to know just how many poker chips you need. This number depends on how many people will be playing at the table. Here is the quantity we recommend for the number of players:
3-5 Players - 300 Chips
5-6 Players - 400 chips
7-8 players - 500-600 chips
9 or more players - 1000 chips
Check out our article "What Size Poker Chip Set Do I Need" for more information.
Poker chips undeniably play an important role in your game. With the design, type, and value in mind, you can now choose the best poker chips for your game.