| | |
| --- | --- |
| | Ever heard of a man winning a women-only tournament? History records September 16, 2009 as the date when poker became the first game to overcome gender discrimination. This may sound bizarre and maybe even comical, but it's true. Abraham Korotki shook the world with a spectacular performance, taking the crown at the Ladies Event of the Poker Open Series at Atlantic City in New Jersey. |
Korotki exploited the poker laws for the open tournaments which prohibit the game organizers from discriminating on a gender basis. The Borgata casino officials were helpless in staying Korotki's entry into the tournament. With all women players in the game, Korotki's lady luck spun the wheel of fortune. In the final round, he defeated Nicole Rowe heads up and won $20,892 as the first prize.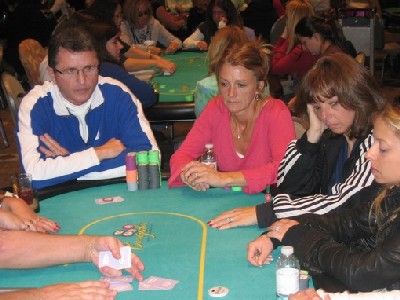 Although Korotki terms his efforts as an attempt to end gender-based discrimination, poker experts have criticized the win as a sheer display of hypocrisy and greed. As per casino officials, Borgata hosts a women-only tournament not with the intention to discriminate on the basis of gender, but to provide an equal podium and comfortable environment for women to enjoy the game, which is predominantly male dominated. Male poker players have several other tournaments where both male and females are allowed to play. Thus, many people see Korotki's act to participate and win a women-only tournament as irrational and chauvinist.
Poker enthusiasts also criticized Korotki for his lack of sportsmanship at the poker table. At one stage, Korotki and Rowe were heads-up with almost the same chip stacks. Rowe offered to split the winning pot in an effort to collect enough money for her Breast Cancer treatment. However, Korotki refused the offer and decided to play on.
Top Women Poker Players
Women poker players cannot be considered as feeble. Many female poker players have proved their mettle, exhibiting remarkable skill and a calm temperament, to win world championships. However, this was not the case even a decade earlier. In the 1990s, poker was considered a man's game and women poker players were few and far between. With the popularity of poker games as TV shows, a large number of women started playing at poker tables, some for earning a living and others for mere entertainment. The emergence of online poker rooms added a new chapter in the history of the online gaming industry.
Women have not only enjoyed the thrills of playing, they have won a great deal of money doing that. Some of the top ranking women winners are:
Kathy Liebert: Residing in Las Vegas, the paradise for poker lovers, Kathy Liebert is one of the all-time leading women poker players in terms of overall winning amount, grossing over $5 million. Liebert came into the spotlight when she won at the $1,500 Hold 'Em Shoot Event at the 2004 World Series of Poker. She claimed $110,180 as the winning amount for this tournament and joined the elite club of bracelet winners. She has participated in more than three dozen world poker tournaments and has claimed the winning jackpot for 12 of them.
Annette Obrestad: Residing in Rogaland, Norway, Obrestad has total career earnings of over $2 million. She has won the world poker tournament only once, but is considered as a top-notch player.
Vanessa Rousso: Playing her favorite game Texas Hold-Em poker, Rousso has amassed winnings of $2.3 million. She won the $5,000 buy-in Borgata Open in 2006 and came in second at the elite $2,500 buy-in online Pokerstars WCOOP Main Event, claiming over $700,000. This law graduate is renowned for her fierce play at the table.
Jennifer Harman Traniello: Traniello is the only woman player to compete at the Big Game table at the Bellagio regularly. She is considered as one of the best poker players in the world. Traniello has won over $2 million and her poker skills are widely acclaimed. With three first place finishes at world-class tournaments, she has won two bracelets at the reputed World Series of Poker.
Annie Duke: She learnt the skills of professional poker playing at home and shifted to Los Angeles in 1994. Duke basked in the limelight with her bracelet win at the 2004 WSOP. She has total earnings of above $1.5 million.
Celebrities in Poker Rooms
The growing popularity of poker games has been compelling film, television and sports personalities to try their luck. Most of the celebrities, such as Ben Affleck, Leonardo Di Capri and Matt Damon, have had bad luck on poker tables. However, there is a close, mutually beneficial relationship between poker and celebrities. A celebrity gets to enjoy media attention whether s/he wins or loses. In fact, a spate of bad luck for a celeb actually turns into an opportunity to gain sympathy and increase the fan base. Club owners benefit from the event, as celebs playing poker drives their fans to the poker table. Thus, both sides are rewarded. Some of the most popular poker wins by celebrities are:
Orel Leonard Hershiser, professional pitcher who played for Los Angeles Dodgers, won $75,000 at the 2008 NBC National Heads-Up Poker Championship. He lost the battle after reaching the quarterfinals.
The 2007 World Series of Poker main event saw many celebrities putting on a good show. Those who recorded wins include Sam Simon ($39,445), Tobey Maguire ($39,445) and Sully Erna ($45,422).
Comedian Gabe Kaplan, of the "Welcome Back, Kotter" fame, was the only known celebrity to reach the final table of any World Series of Poker. In 1980, Kaplan played winning rounds to reach the six-handed final table, but lost to the top seed poker player.
Shannon Elizabeth, famous for her performances in American Pie (1999) and Scary Movie (2000), made it to the semifinals of the 2007 NBC National Heads-Up Poker Championship, claiming a prize amount of $125,000.
The Meeting of Two Worlds - The Internet and Poker
The Internet revolution has brought business and pleasure online. So, how could poker be left behind? Numerous serious and amateur players are searching the Internet everyday for information on this exciting and addictive game. People are exchanging information and opinions and discussing strategies and events on various blogs, discussion boards, communities and social networking sites.
Almost every top seed poker player has his online blog and community to reach out to his fan base. Many poker clubs have a presence on the Internet. They use these public tools to build their brand image and earn the patronage of poker enthusiasts.
The concept of micro-blogging, promoted by Twitter, has taken this relationship to new heights. Paul McGuire mentioned in one of his online articles that while covering the World Series of Pokers in 2009, he received a tweet on the death of Michael Jackson. The players also got the news via twitter. Soon people in the room were tweeting each other and within a few minutes everyone was expressing remorse on the death of the legendary artist. Such is the power of the Internet.
Since the dawn of the technology, Twitter has become the immediate voice of poker players. It depends to a large extent on the users how they choose to exploit the technology. As a poker enthusiast, you can always join these players on Twitter:
Phil Ivey - He has hired professionals to manage his profile on Twitter.
Annie Duke - She understands the PR power of tweets and uses them to her benefits.
Joe Sebok - The number of followers on his account is higher than the population of many cities.
David Williams - He uses Twitter extensively to communicate with other players.
Annette Obrestad - She loves to tweet about everything, not just poker.
Twitter can be a powerful platform for communication and promotion of events. For instance, PokerNews is now organizing a special tournament for Nicole Rowe to help her cover her Breast Cancer treatment expenses. This is being promoted through Twitter.
While Twitter is the trend of the day, Facebook is highly popular as well among poker lovers. Facebook allows individuals to interact in a number of ways, rather than simple text messaging. The Poker Club is a hot favorite group on Facebook, with over 0.3 million fans.
For poker enthusiasts, current club owners and those who'd like to capitalize on the growing popularity of poker, Poker Chip Plus offers a range of poker tables and accessories. It offers the best in quality at the lowest prices.