Dating back to the eighteenth century, roulette is a blend of Ace of Hearts, EO and Roly-Poly English wheel games. Roulette is easy to learn and great fun to play. Whether you are a club owner or someone who loves hosting gaming parties, roulette is sure to be a hot favorite.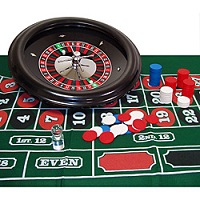 To add to the excitement of the game, you can order some interesting roulette supplies. You can choose from a range of tables and layouts, roulette balls, markers and wheels. Grab a roulette book in case you wish to hone your skills.
Poker Chip Plus makes it very easy for you to order roulette supplies. And we promise to ship within two business days.
We stand by the quality of our products and are eager to cater to your requirements.