High Quality Poker Chips
Authentic & Customizable Poker Chips
Are you looking forward to upgrading your old poker chips or wish to add some more to your collection? It's time to give players that real feel of the game by letting them play with authentic and flawless chips made of clay or composite resin material. Plastic chips are ideal for kitchen table games.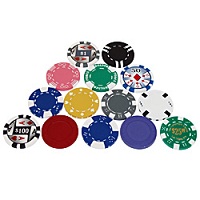 Poker Chip Plus offers you the finest poker chips at amazingly low prices.
You can choose chips weighing from 8g to 15g and the ideal chip diameter is 39mm. How would you like your initials or denominations hot-stamped on your chips? You can choose from to have a custom logo or text printed on the chips.
You are sure to be thrilled by the product quality and timely delivery. If you are not satisfied with your new poker chips, you can simply return them within 30 days and get your money back.