Introduced in the eighteenth century in France, craps has become a widely played gambling game in the US. This dice game is a version of 'Hazard,' an old English game. If you are a craps enthusiast and are bored of playing street craps, consider buying your own craps supplies.
You no longer have to waste time, money and gas in looking for suitable craps supplies.
Poker Chip Plus is a one-stop online shop for all your craps requirements.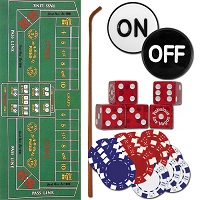 A typical set of craps will include a felt layout, dice, stick, buttons and chips. Our flawless custom dices are available in various colors. Our professional craps sticks move swiftly on the table. If you are a beginner and wish to impress your buddies, try some of the tips and tricks mentioned in the latest craps books and videos.
You've come to the right place for quality craps supplies at the lowest prices. Experience our warm customer service and prompt delivery.