SAVE Up To 72% On Select Striped Dice Poker Chips.
These Dice Poker Chips are a casino sized 39 mm in diameter and are 11.5 grams in weight.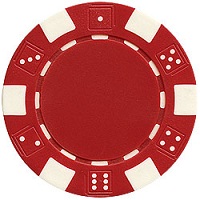 They are produced from a composite resin and an insert that gives them the weight feel of a heavy casino quality chip.
The detail on Striped Dice chips is great. The six stripes and dice are one of the most interesting design on the market.
These Dice chips can be hot stamped with your initials or denominations on one side or both.
The Dice poker chips have a unique design and are great for casinos and homestyle play alike.
THESE CHIPS ARE CUSTOMIZABLE!