Save up to 63% on 4 Aces Poker Chips!
4 Aces poker chips are distinct from all other poker chips currently on the market. At 39 mm in diameter and with a weight of 11.5 grams, they are perfectly sized casino chips that feel like the real deal in your hand. They are made from high quality materials that contribute to their authentic feel as well.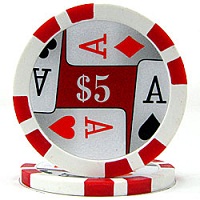 Each chip is marked by a high resolution graphic that is directly etched across the top to ceate a distinct appearance. A festive design portraying a 4-of-a-kind aces poker hand is beautifully displayed around the denomination marking on every chip. Your guests will be inspired by the appearances as well as the feel of every chip they touch.
Each denomination has its own label and stripe color, so they are easy to distinguish during gameplay. The 4 Aces poker chip set inclues ten denominations, ranging from $1 to $10,000. No matter what form of poker you enjoy playing, these chips will fill your need for high quality, authentic feeling chips that are a blast to drop on the table.
4 Aces poker chips maintain their value, and may even increase in value over time.
These 4 Aces chips will grace your gaming table for many years to come.